Instagram is undeniably one of the most crucial social media channels around. With over 1 billion monthly active users it is the next biggest social media platform used worldwide after Facebook. Whether you manage the social media of a big corporation, a small business, or you're using it to promote your own personal brand, incorporating Instagram into your marketing strategy is essential to drive traffic and keep your audience engaged. However, do you often find yourself confused and at a loss of ideas on what to post on your feed? We have got you covered!  
Related: Top 10 Amazing Tricks for Effective Instagram Marketing
Following are 25 Instagram content ideas that you can consider-
Contest or giveaways
To delight your current followers and attract new potential customers to your page, you might consider hosting an Instagram giveaway. An Instagram giveaway allows you to offer something for free in exchange for an Instagram like, comment, or a set of tasks. Take this one for example by headspace-
Product feature/ announcement/ demos/ teasers
The best and most effective way to introduce a new product or service in the market is by posting a demo or a teaser video of the same.
Take this teaser launch by adidas for example-
User generated content
User generated content is one where the company or brand posts pictures of their customers using their products or services. This has dual benefits- for the brand it shows that the it cares about its customers and is aiming to build a community and for the followers it gives them a chance to get featured on the company's feed which makes them feel like a part of the community and keeps them engaged.
Lush cosmetics is one company that posts pictures of their followers using their products on a regular basis. They also give picture credits to them which makes them feel special and included.
Celebrity/ influencer endorsements
Studies show that micro influencers or people who have a modest group of followers as compared to regular and famous influencers drive nearly seven time more ROI and traffic.
Influencer marketing helps target the younger generation and hence is a great way to increase followers.
Bob's Red Mill partners with mom blogger Samantha Scott to promote their products in the example below-
Behind the scenes content
Behind the scenes content is another good way to engage audience. It's important to include behind-the-scenes content in your social posts because it gives you a chance to connect with your community on a more personal level. It makes you relatable, approachable, and adds a human touch to your profile. People are always interested in how the things work inside of your company and therefore are bound to engage with that kind of content
Meme- related content
A majority of the audience is on Instagram for the memes and they spend most of their time looking through memes. So, you can take advantage of this and make use of the trending memes attract more followers like this one by a hair salon-
In this one image, they have very smartly incorporated a before-and-after of their salon treatment with a funny meme that engages and encourages people to visit their salon.
Hashtag related content
Find a trending hashtag and use it for your niche product or services. Chances are that your company will pop up on the feeds of the people who are following that hashtag and they might become a follower of yours. Do an in-depth analysis of the hashtags relevant to your company and those used by your competitors.
Pro tip- use a combination of bigger hashtags that have millions of posts and comparatively smaller and niche hashtags to reach a wide variety of people.
Team employee photos
If you have a team, then you can post photos to celebrate their effort and hardwork. This also to show your work culture and employee happiness.
Take this one for example from entrepreneur Melyssa Griffin along with a long engaging caption of the story behind the formation of her team
Limited time offers
You can run promotions campaigns like a limited-time sale or discount on special dates. This would include Black Friday, Cyber Monday, Christmas, your birthday, or any other date that is special to you or your company.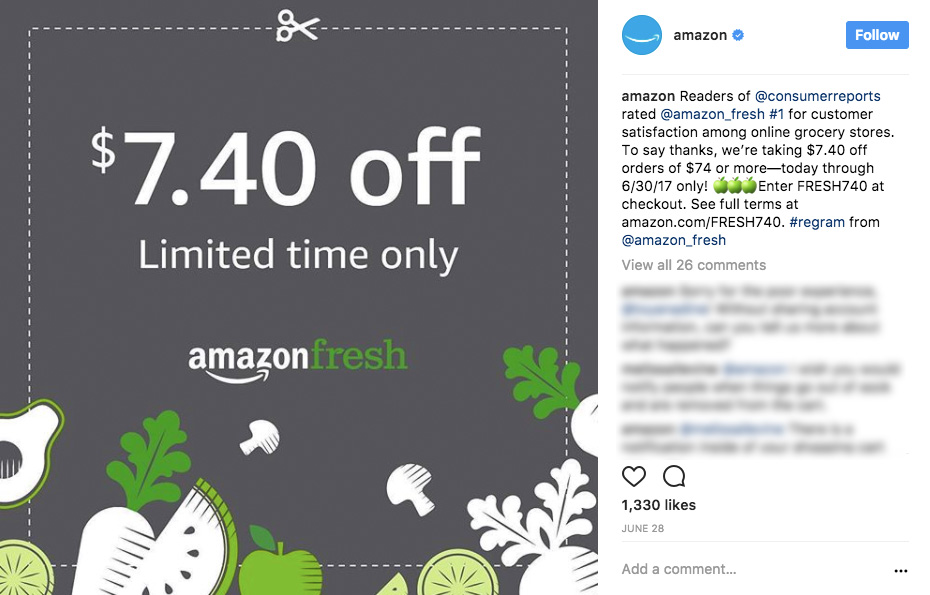 Throwbacks
It is proven that throwbacks get viral and get a lot of engagement. (#throwbackthursday or #tbt is the most famous hashtag that you can use)
Take this one for example by famous Hollywood actor Will Smith
New blog post
Share a photo and a summary of your new blog posts. Provide links and encourage followers to click on the links to your blogs.
Share quotes 
You can share motivational quotes to inspire people. People love the content that they can instantly relate to.
Post your morning/ daily routine 
Daily routines are again one of the most famous and engaging contents on Instagram. It will also help your followers know more about your personal life and connect to you.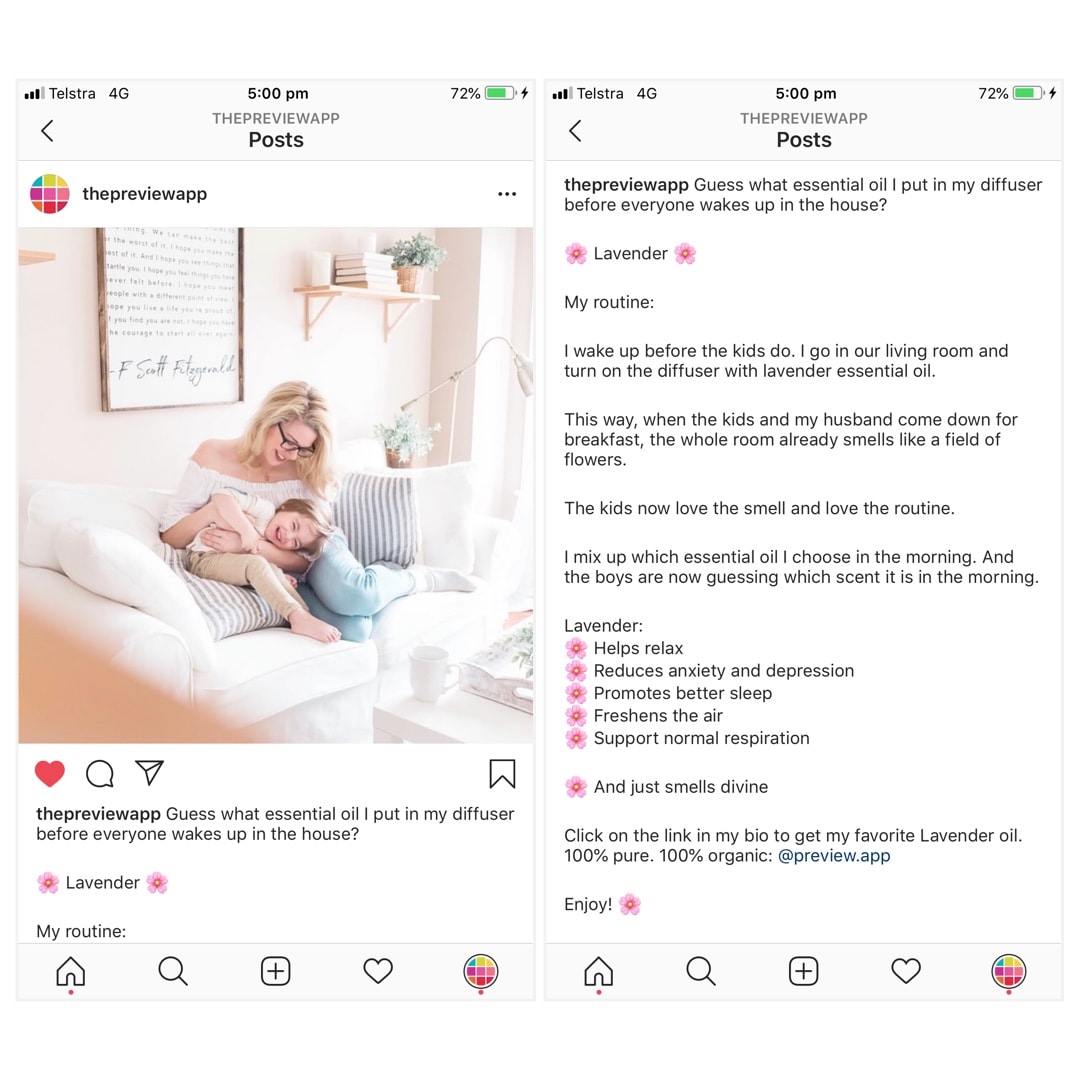 Post photos of your family 
Once in a while, your followers might enjoy seeing your family life. Sharing personal photos not only "humanizes" your business, but shows your followers that you value what's important in life.
Dwayne Johnson also known as 'The Rock', shared this picture of him with his beautiful daughter which shows that he loves and values his family.
Books or movie recommendations 
Post photos of books or movies that you currently watches/ read and recommend them to your followers. Tell them what you liked and learned from the book and encourage your audience to read/ watch them as well.
For example, entrepreneur and angel investor Ankur Warikoo recently shared photos of the books that he read in 2020.
Instagram reels 
It is a new and most popular feature launched by the app. Being a recent feature, Instagram reels are able to attract many followers to your profile. Since they are the latest and trending feature by Instagram, its algorithm promotes reels more. This will help increase your visibility and attract the potential market. Shoot and edit short 15-second videos of you or your company or your products to drive more people to your feed.
Customer testimonials 
A positive customer review is very valuable to your brand. It increases your brand value and builds trust among the existing followers which will also help them in ultimately converting into customers.
Pets  
Many people love watching pet photos and videos on Instagram. Post content about your pets and let your furry little friend help you drive more traffic.
Poll or survey
Confused about something? Polls are a great way to validate your ideas and make your followers feel like a part of the community. Put out a poll on your story and let your audience decide for you.
This is a poll from a clothing brand asking their followers their opinion in order to engage them.
Charities and social work 
If you are someone who does charity and believes in giving back to the society, show it to your followers. In addition to spreading awareness, this will inspire them and they might join you and donate for a social cause.
Go live  
Going live on Instagram helps your audience connect with you real time. You can Q&As, interviews with influencers etc.
Twitter chats in an Instagram friendly way
Having conversations with your followers on twitter is another great way to engage with them. These twitter conversations can later serve to be content for your Instagram followers. Go creative and post screenshots of tweets for your Instagram feed without ruining your brand's aesthetics.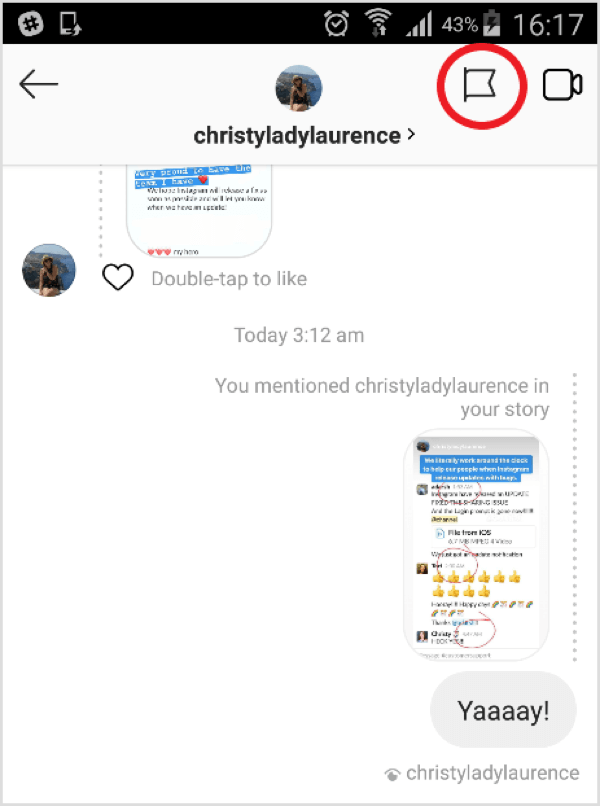 Playlists
Who doesn't love a good playlist? Making a Spotify playlist of your own brand and posting it own Instagram is a creative and unique way to be appreciated by your current followers and also bring new ones. Example this one from H&M-
Create a new content series
Creating your own will ensure that you have enough content to post on a periodic basis. This series can come in the form of IGTV videos or Instagram live say every Sunday.
Ask people to join your email list
You can use this platform to show what the people will get if they join your email lists or newsletter like a free eBook for example.
Related: 10 Simple Tricks to Creating an Unbeatable Facebook Ads
Closing thoughts
Instagram marketing is necessary in today's times to generate sales and grow your customer base. Hence, every company or brand or individual should make optimum utilization of this platform to engage audience. Some additional points to keep in mind are-
Use CTAs or call to action wherever you can. Have a consistent theme or look to your feed. An esthetic and an eye-pleasing theme are more likely to drive people to your profile. Post during the times that your audience is most active. This will ensure maximum engagement. And lastly, write longer captions to compel people to read and stick through the caption till the end.
Interact with our social media marketing team to get more content ideas, schedule your free appointment today.