Most know that LinkedIn ads essentially allows users to create a road map of their careers. LinkedIn ads are really a different kind of animal that requires different techniques for using it effectively. Some might not know that LinkedIn can also be an effective tool for promoting your business. Here is a list of ways you can use LinkedIn from a company perspective to promote your business and target potential clients.
Related: 10 Simple Tricks to Creating an Unbeatable Facebook Ads
What is LinkedIn marketing?
LinkedIn isn't just for professionals and job seekers. Sure, millions of professionals use LinkedIn every day to grow their networks and their careers, but you can use LinkedIn to grow your business too. This social media tool exposes you and your business to millions of connections that you can use to build relationships with individuals and other companies to boost your brand.
Related: 10 Innovative Ways for Getting More Clients
10 Tips to Market on LinkedIn
Keep refining your LinkedIn profile
Keeping your profile up to date is one of the most impactful ways to improve your contact rate. It's not just your brand that your audience is interacting with. People do business with other people, so profiles matter.
Aim for close to 100% completeness and continually optimize your profile.
Add new skills, achievements, and examples of your latest work.
Introduce your personality. Authenticity is as important as experience.
Create an effective LinkedIn page
This is your organization's profile on LinkedIn. Your page should offer ample opportunities for prospective customers to learn more about your brand and the people who work there, as well as engage with relevant content. Pages are free for everyone.
Define your audience and goals
Whether raising awareness or generating leads, targeting is key. Once you know what you want to accomplish, it's easier to define your audience. If your company sells a productivity tool for social media, your goal may be to raise brand awareness among LinkedIn members with job titles like "social media manager" or "social media lead". Better-defined audiences lead to better lead generation.
Optimize your page for search
A well-optimized Company Page can help you gain visibility among the people searching for what your company offers.
Insert keywords. Incorporate keywords and phrases that potential customers might use to search for your product or service. Include them in the About tab overview, clearly representing who you are and what you do.
Link to your Page. Links are essential for boosting your search ranking. An easy win here is to link to your Page from your website. Also, make sure the LinkedIn profiles of employees are up to date.
Share relevant content. Share often. The more frequently you share content your followers engage with, the higher your Page will appear in search results.
Grow your page followers
Your updates appear directly in a follower's LinkedIn feed.
A robust following will give you a relevant audience with every update. There are a few key things you can do to start growing your following now.
Use a "Follow" button on your site or blog.
Invite your Profile connections to follow your LinkedIn Page.
Let your employees know your most important Page posts to boost the organic reach.
Promote your Company Page on emails, newsletters, and blog posts.
Publish engaging content on your company page
Post content that your target audience will want to read. While it can be tempting to sell your audience on the benefits of your product or service, "sales" content doesn't generally perform well on LinkedIn. If there's one thing LinkedIn members find engaging, it's a fresh idea. Publishing thought leadership content on your Company Page is one of the most powerful ways to grow your audience. Naturally, you will want to publish and promote your own content, but it's also a good idea to share engaging and insightful content from others.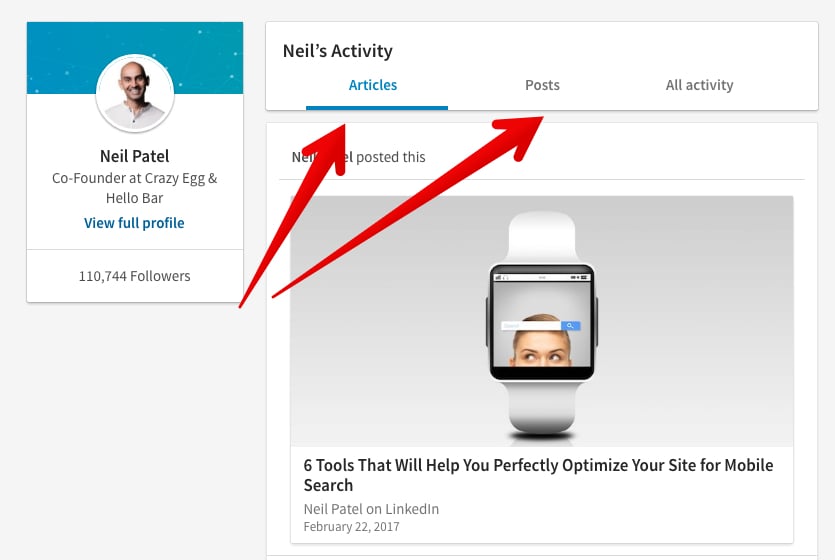 Use rich media to increase engagement
Cater to your audience's craving for visual content by experimenting with different types of rich media content:
Custom image collages (3-4 images in one post) perform very well.
Videos should be about 1-2 minutes and should capture attention within the first few seconds. Add subtitles for those watching with the sound off.
Live video generates 24x more comments than regular video on LinkedIn.
Documents, like PDFs or PowerPoints, can showcase what makes your brand unique.
Kudos and team moments can highlight colleagues or employees—a personalized shout-out is always appreciated.
Highlight your best content
Boost your content directly in your audience's feed, using Sponsored Content.
Attract followers by getting your updates in front of more people
Use LinkedIn's comprehensive targeting to reach the right audience
Use Direct Sponsored Content to test variations of your messaging
Track the number of leads you are getting from your ads with a conversion tracking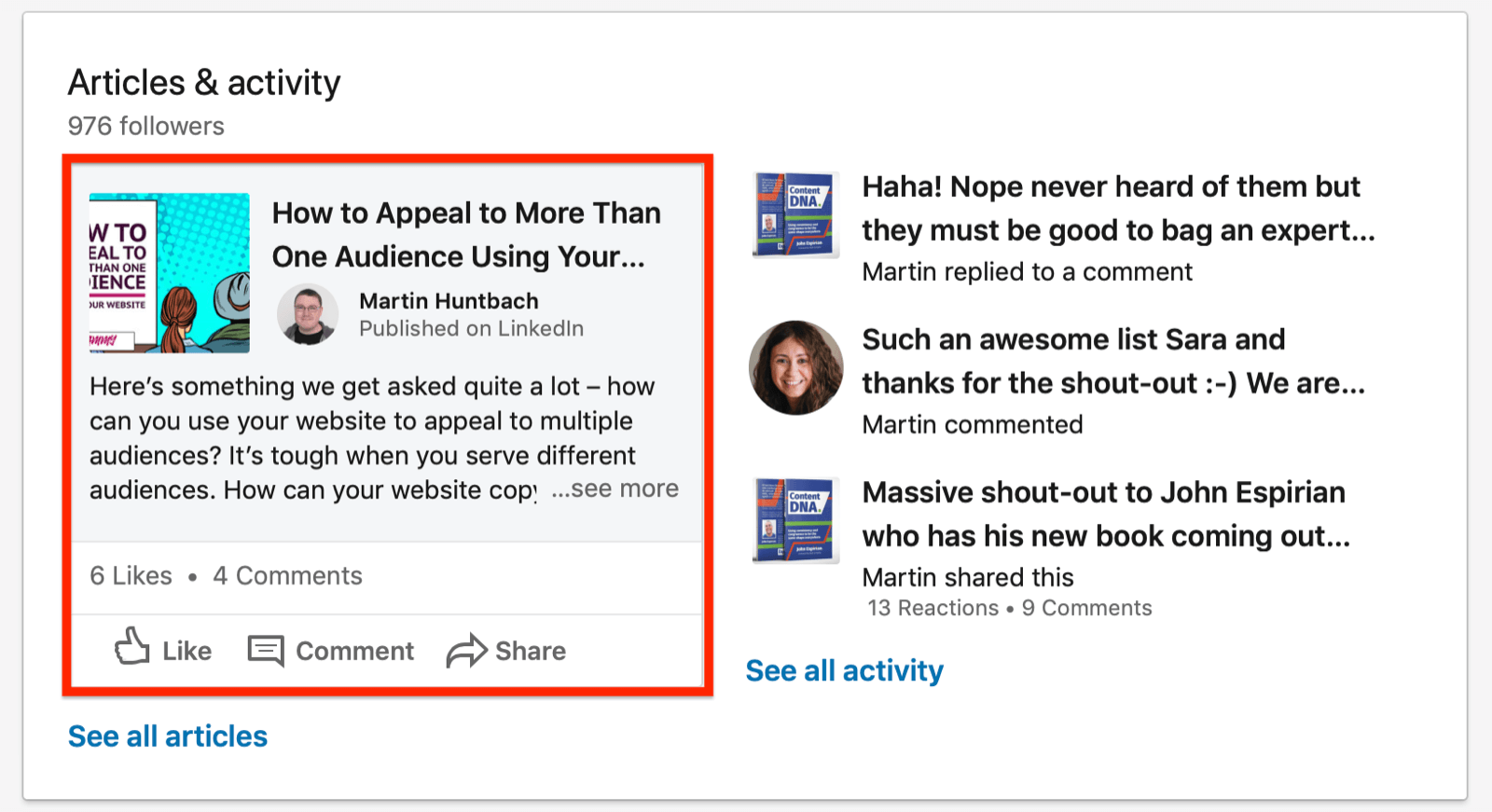 Create LinkedIn ad campaigns
Reach your marketing goals with more ad options. You can run a self-service ad campaign on LinkedIn using Sponsored Content, Message Ads, Dynamic Ads, or Text Ads, powered by Campaign Manager, LinkedIn's all-in-one advertising platform. Campaign Manager lets you set a budget, select goals (clicks vs. impressions), and have complete control over your campaign's timeline. In addition, the platform includes several features designed to help you meet your advertising goals.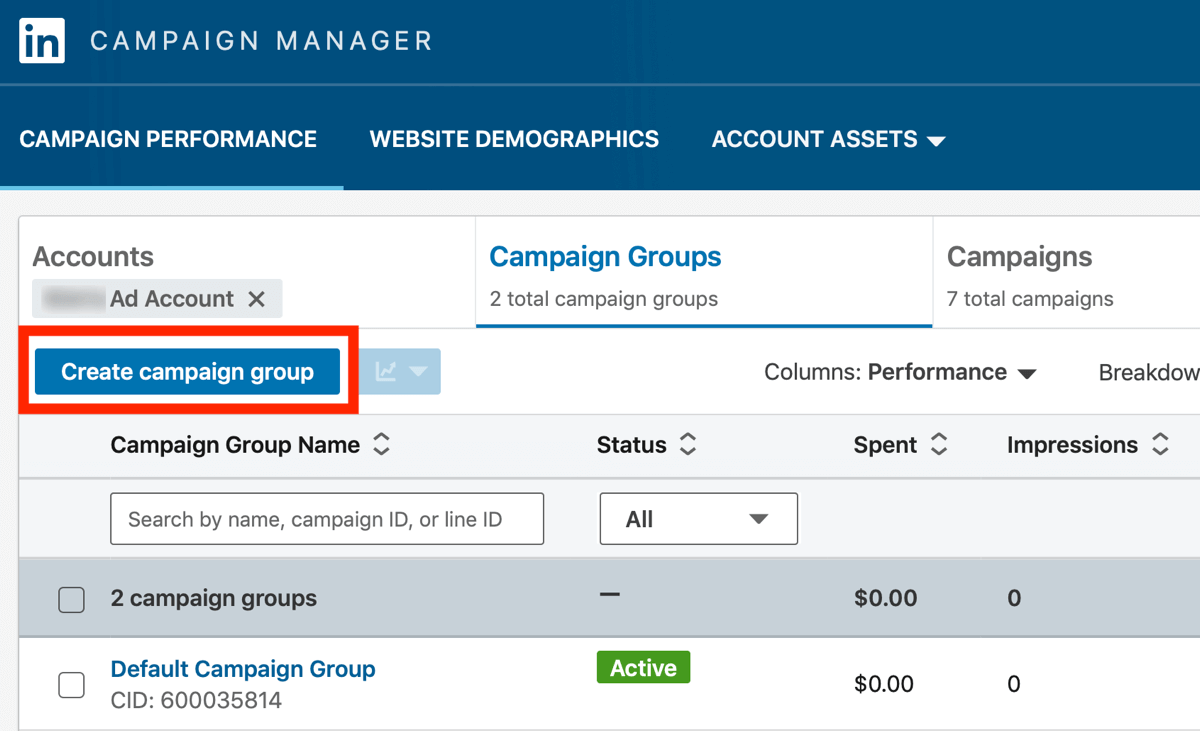 Get advanced with analytics
There are several ways to drill down into your audiences' preferences and behaviors on LinkedIn:
For monitoring and optimizing your LinkedIn Page performance, there's LinkedIn Page analytics, along with analytics for publishing on LinkedIn.
Improve your paid campaign performance with help from your LinkedIn Campaign Manager.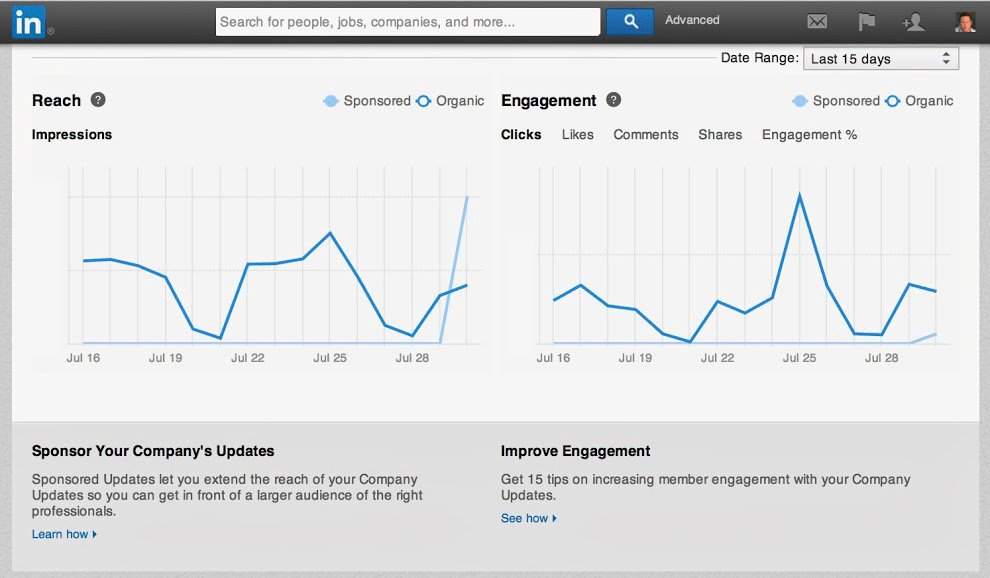 How to Advertise on LinkedIn?
The five steps below demonstrate how to run a self-service ad campaign on LinkedIn using Sponsored Content, Message Ads, Dynamic Ads, and Text Ads.
Get started with Campaign Manager:-
If you don't have a Campaign Manager account, it only takes a moment to create one.

Campaign Manager lets you set a budget, select goals (clicks vs. impressions), and have complete control over your campaign's timeline. In addition, the platform includes several features designed to help you meet your advertising goals:
Dynamic visual reporting that recalculates and displays only the data that matches your search and filter settings.
A detailed breakout of the actions your campaigns generate, including Clicks, Likes, Shares, Comments, and Follows.
A detailed view of the demographic categories of LinkedIn members who click on your ads, available at the account, campaign, and creative level.
Choose your objective
Choose from the following objectives to customize your campaign:
Awareness: Brand awareness
Consideration: Website visits, Engagement, Video views
Conversion: Lead generation, Website conversions, Job applicants
Your chosen goal—impressions, clicks, or video views to name a few—will determine the rest of your campaign creation experience.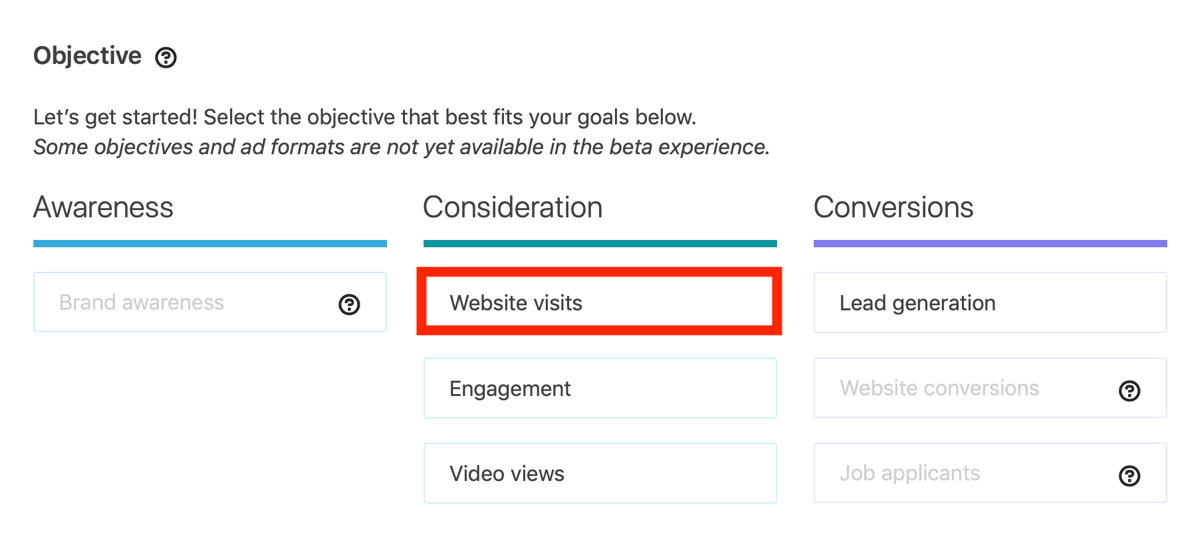 Select your targeting criteria
Reach the right audience by using LinkedIn's targeting tools for campaign success. Choose from over 20 different audience attribute categories including:
Company size
Company name
Member schools
Member interests
Member groups
Skills
Job title
Job seniority
And more
Targeting is a foundational element of running a successful advertising campaign – Getting your targeting right leads to higher engagement, and ultimately, higher conversion rates.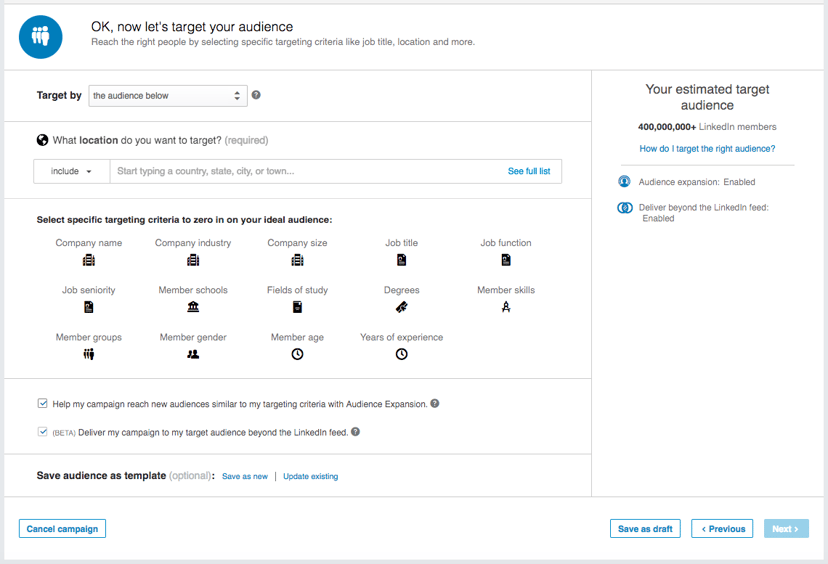 Choose your LinkedIn ad format
Sponsored Content
Sponsored Content appears directly in the LinkedIn feed of professions you want to reach, and comes in three different formats: single image ads, video ads, and carousel ads. Using Sponsored Content, you can:
Target your most valuable audiences using accurate, profile-based first-party data
Reach a highly engaged audience with native ads in a professional feed across desktop and mobile
Drive leads, build brand awareness, and nurture key relationships at every stage of your sales cycle
Related: 10 Wonderful Snapchat Marketing Strategies To Grow Business
Message Ads
Message Ads lets you reach your prospects on LinkedIn Messaging, where they increasingly spend most of their time – and where professional conversations happen. Using Message Ads, you can:
Send direct messages to your prospects to spark immediate action
Drive stronger engagement and response than traditional email marketing
Measure the value you're getting by seeing which roles and companies are taking action on your message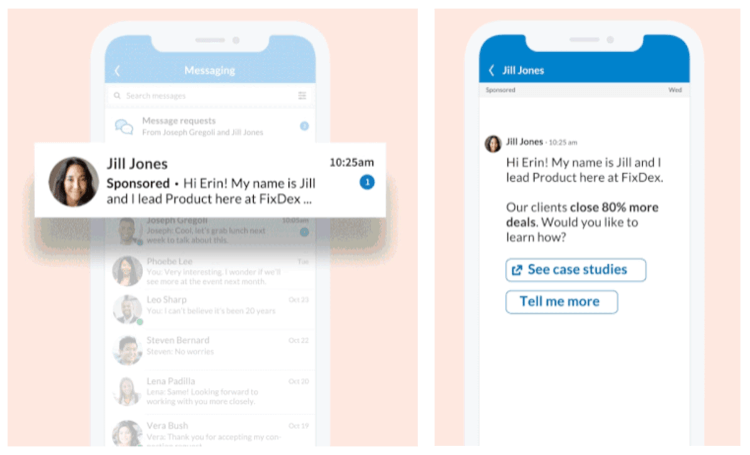 Dynamic Ads
Select a Dynamic Ad format to personalize your creative for each member in your target audience at scale. Dynamic Ads use LinkedIn profile data – like photo, company name, and job title – to personalize ads. Increase engagement with these three formats:
Follower ad: Promote their LinkedIn Page or Showcase Page and drive members to follow their LinkedIn page with a single click on the ad from the desktop experience.
Spotlight ad: Drive website traffic or spark an action like event registration or showcasing a new product.
Jobs ad: Increase relevant applicants by personalizing ads to top talent on desktop and mobile experiences.
Text Ads
Text Ads are simple but compelling pay-per-click (PPC) or cost-per-impression (CPM) ads. Using Text Ads, you can:
Easily create your own ads and launch a campaign in minutes
Tailor messaging to the professionals you need to reach
Pay for only the ads that work – per click or per impression
Set your budget and schedule
There are three options:
Cost per send (CPS) is used when you run Message Ads campaigns. You pay for each message that is successfully delivered.
Cost per click (CPC) is often used for action-oriented campaigns like lead generation or event registration.
Cost per impression (CPM) model is typically a better fit when brand awareness is the goal.
Along with choosing the right option for your campaign, you will enter a suggested bid, daily budget, start date, end date, and total budget. Regardless of the end date you choose, you can cancel your campaign at any time. It's also important to note that LinkedIn uses an auction system for bidding that rewards engagement, meaning you can win an auction without being the highest bidder.
Measure and optimize your campaign
You can track your campaign's overall impressions, clicks, social actions and budget. Social actions are initiated by LinkedIn members who interact with your content – it's organic, free engagement.
Click through to each campaign to see how each ad within the campaign is performing. Using this data, you can edit your ads, refine your targeting, adjust your budget, and toggle ad variations on and off based on performance.
Related: Top 10 Amazing Tricks for Effective Instagram Marketing
Conclusion
LinkedIn recommends that you pause the ad with the lowest engagement and replace it with new creative. Doing this will improve your ad relevance score and allow you to win more bids in the process.
Keep track of your findings for future campaigns, especially if you plan to target the same or similar audiences.
Start promoting your business on LinkedIn. Schedule your free appointment today.